Product Overview
Every leader wants their school to be a place where each student develops as a person as well as a learner. But can you provide data to objectively evidence that young people develop emotionally during their time in your school?
STEER Essentials is a ground breaking application to measure, track and improve the self-regulation of every young person in your school, equip your teachers to give personalised support and evidence its impact year on year.
What is it
STEER Essentials measures, tracks and improves how each young person self-regulates four factors which are fundamental to wellbeing and good mental health. Essentials identifies hidden emotional risks that might otherwise go undetected, equipping teachers to proactively target their support, and measure impact.
How it works
Schools follow a 5 step process each term or semester. 1. Train staff (fast online training) 2. Assess students with 10 min browser or mobile app assessment 3. Prioritise students flagged as a concern 4. Act to implement a personalised action plan using the expert strategies suggested by the STEER application 5. Review impact of actions at the next assessment
The benefit
Self-regulation is a critical foundation to young people's mental health and academic outcomes. By measuring, tracking and improving self-regulation, STEER Essentials moves your wellbeing approach from reactive to proactive; generalized to targeted; anecdotal to measurable.

We focus on the Student
STEER Essentials shows you how each student self-regulates four factors: Self-Disclosure, Trust of Self, Trust of Others and Seeking Change.
STEER Essentials then equips you to know how to support each student based on data, and then provides you with personalised strategies for that young person day-to-day. Take any individual student and ask – what do I need to do next to signpost this young person's development? Then put that guidance into action.
We support Schools
We understand teachers are busy. STEER Essentials, designed by teachers, reduces the time required to respond to your students' mental health needs. Teachers get practical, effective and personalised strategies to support every student in their care.
The application prompts you to review your actions regularly, find out what is working, and do more of it. Our easy to use online teacher training means everyone is fully equipped. We can also provide bespoke consultancy for schools wanting more.
Research based approach
The development of STEER Essentials as a tool to track and improve whole-school wellbeing and self-regulation required 10 years research.
Our research involved more than 200 schools. We publish our papers on our website into our research process because we are committed to an evidence-based approach to young people's mental health.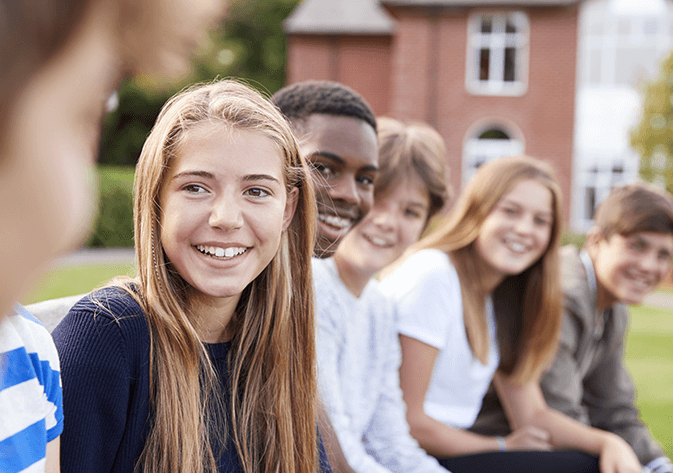 Essentials in more detail…
01: Train teachers
Staff trained through flexible online training modules.
02. Assess whole school
15m online assessment completed by all students.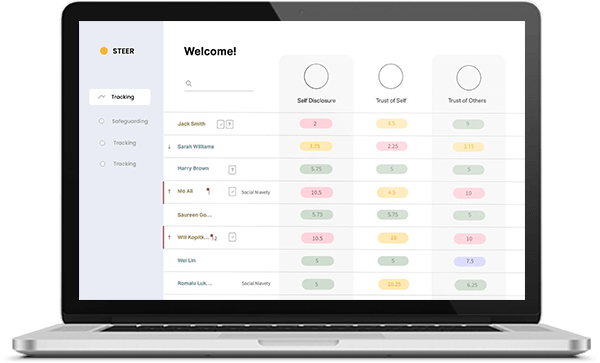 03. Prioritise students
Priority students are flagged and risks highlighted.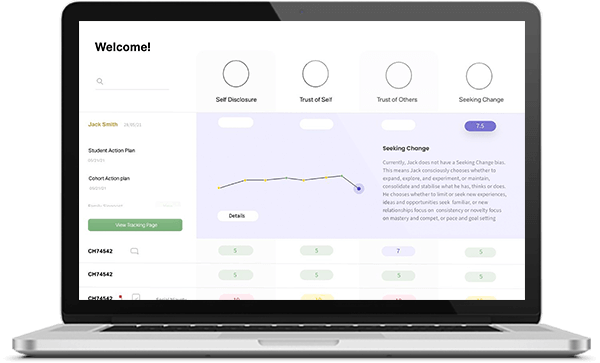 04. Act on expert guidance
Proactive, targeted student action plans written in minutes.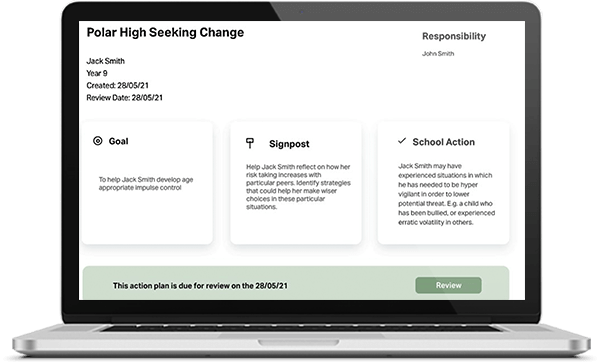 05. Review impact
View impact of action plans measured.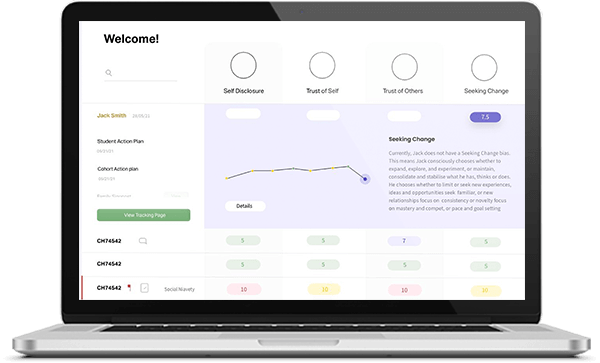 INCYTE school report
The STEER programme has been highly successful in identifying pupils' mental health and wellbeing needs and addressing them.
Martin Reader
Headteacher, Cranleigh school
STEER provides us with the data to support the new inspection requirement for personal development.
Deputy Head
UK school
The information produced by the STEER student action plans is incredible and so helpful. The staff have really embraced it.
Designated Safeguarding Lead
Tendring Technical College
SINCE WE HAVE STARTED USING AS TRACKING, WE'VE HAD A 20 % DECREASE IN SELF-HARM AT THE COLLEGE
Frank O'Kelly, MBE MB BS MRCGP DA(UK DCH) DRCOG,
School doctor and GP
As a clinician I have no doubt that these STEER action plans are likely to achieve a better health outcome for the child.
Chris King
HMC Chair 2016
STEER offers the opportunity to better understand the needs of individual pupils so they are more likely to perform to their academic potential.
Governor
UK school
The accuracy and focus that STEER brings to the school's pastoral care means that we, as a Board, have huge confidence that we are discharging our duty.
School Inspector
INCYTE Inspection Report
The Steer programme has been highly successful in identifying pupils' mental health and wellbeing needs and addressing these.
Deputy Head Pastoral
UK School
STEER has significantly reduced the number of our pupils in need of critical pastoral support, a claim I can evidence
Peter Goodyer
CEO of the Bede's School Trust
If we find in Y9 girls there is an issue round Self-Disclosure, we can put together a structured cohort plan. And it allows us to see the impact of that plan.
Head of Year
UK School
STEER has helped to improve the quality of conversations that I am having with tutors and parents.
Group Safeguarding Lead
Academies Enterprise Trust
Steer has enabled our academies to accurately and efficiently identify students with hidden vulnerabilities, those who might otherwise remain hidden.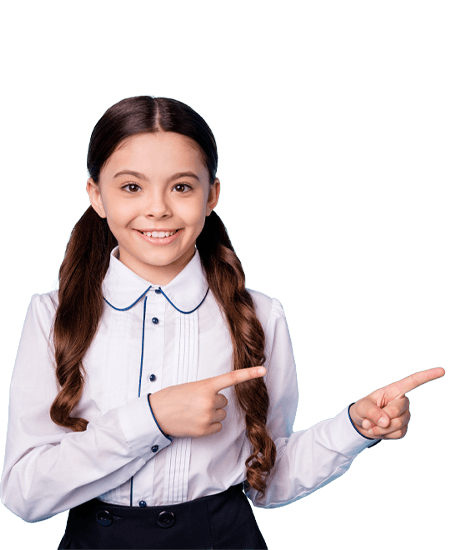 Ready to get started?
If you would like to get started with STEER then contact our team to book a call today.
Get started