Track and Prioritise…
Imagine that, this term, you could quickly identify which of the 1,000 students had hidden mental health risks, even if they were not visible.
Imagine you could quickly prioritise, so that your teachers could focus their limited resources on safeguarding the right students.
Imagine your teachers were empowered to respond to students' mental health needs early before they developed into a crisis.
… Act and Evidence
Imagine your teachers were guided how best to support each student's wellbeing
Imagine they could create simple, practical action plans in 5 minutes that had an 8/10 rate of success reducing social-emotional risks
Imagine you could measure which of those actions had an impact, so you could do more of them
Imagine that, each term, you could have evidence of the quality of your school's impact on mental health and wellbeing, just as you can on learning . . .
What is it
STEER Tracking is an evidence-based tool to measure, track and improve how each young person self-regulates four factors which are fundamental to wellbeing and good mental health.
STEER Tracking has identifies hidden social-emotional risks that might otherwise go undetected, equipping teachers to proactively target their support, and measure impact.
How it works
Schools follow a 5 steps each term/ semester to track and improve student mental health
1. Train staff online
2. Assess all students' wellbeing 
3. Prioritise flagged students 
4. Act with our expert strategies
5. Review impact next term
The benefit
Self-regulation is an evidenced-based foundation for young people's mental health and academic outcomes.
By tracking and improving student self-regulation, STEER Tracking provides a whole-school, evidence-based approach which reduces teacher workload and improves student wellbeing support.

More details
01: Train all teachers
Teachers are trained to use the whole school mental health STEER Tracking platform via our flexible online training course.
02. Assess whole school
Students complete a short, sophisticated 15m assessment on the STEER Tracking platform or app twice or three times/ year. This tracks and supports each student's ability to self-regulate and identifies hidden social-emotional (SEL) risks.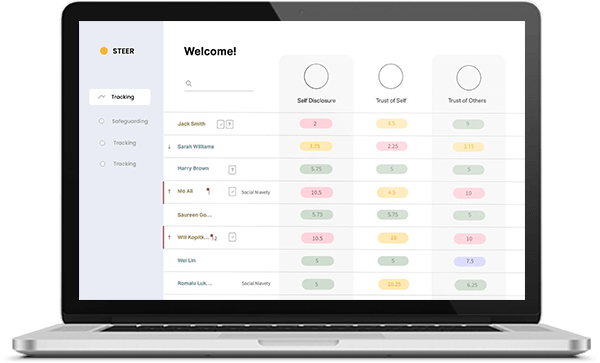 03. Prioritise students
Students with poor self-regulation, those who have deteriorated since last assessment, and those at risk are flagged. The STEER Tracking platform precisely describes the wellbeing risk and highlights effective actions to take to support their wellbeing.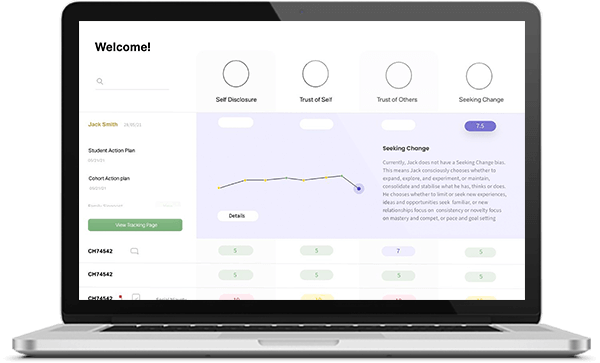 04. Act with expert strategies
Teachers use the huge bank of expert strategies on the STEER Tracking platform to write targeted action plans for flagged students. These are shared with relevant colleagues and put into place.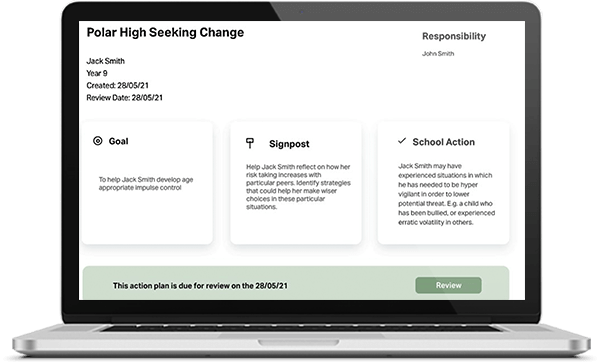 05. Review impact
On average 8/10 students reduce their social-emotional (SEL) risks when supported by a STEER action plan, as measured in 4 months time at your next STEER assessment round.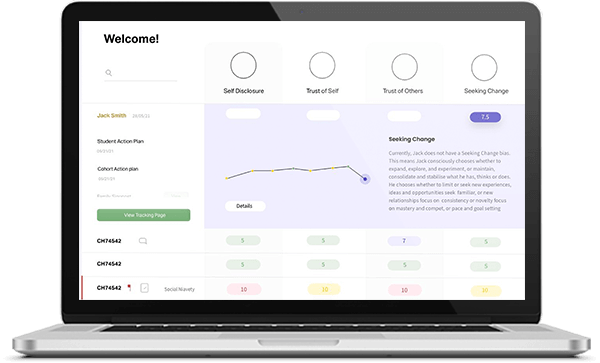 INCYTE school report -
The STEER programme has been highly successful in identifying pupils' mental health and wellbeing needs and addressing them.
Martin Reader - Headteacher, Cranleigh school
STEER provides us with the data to support the new inspection requirement for personal development.
Deputy Head - UK school
The information produced by the STEER student action plans is incredible and so helpful. The staff have really embraced it.
Chris King - HMC Chair 2016
STEER offers the opportunity to better understand the needs of individual pupils so they are more likely to perform to their academic potential.
Governor - UK school
The accuracy and focus that STEER brings to the school's pastoral care means that we, as a Board, have huge confidence that we are discharging our duty.
School Inspector - INCYTE Inspection Report
The Steer programme has been highly successful in identifying pupils' mental health and wellbeing needs and addressing these.
Deputy Head Pastoral - UK School
STEER has significantly reduced the number of our pupils in need of critical pastoral support, a claim I can evidence
Peter Goodyer - CEO of the Bede's School Trust
If we find in Y9 girls there is an issue round Self-Disclosure, we can put together a structured cohort plan. And it allows us to see the impact of that plan.
Head of Year - UK School
STEER has helped to improve the quality of conversations that I am having with tutors and parents.
Group Safeguarding Lead - Academies Enterprise Trust
Steer has enabled our academies to accurately and efficiently identify students with hidden vulnerabilities, those who might otherwise remain hidden.
Deputy Head Pastoral - UK secondary school
We have had some real great breakthroughs with the action plans following the first round of STEER assessments
Case Study: National MAT
We worked with a national MAT of 58 schools, including 21 secondary schools, many in deprived coastal and urban areas.
Following a successful pilot in four schools in 2018, the Trust rolled out STEER across the whole trust of 58 schools in 2019.
"Steer has enabled our colleagues in academies to accurately and efficiently identify students with hidden vulnerabilities, those who might otherwise remain hidden. The analysis of these vulnerabilities enables colleagues to pinpoint specific steering biases for individual students and facilitates the completion of individual action plans.
Over the period of the two lockdowns, we have been able to track the degree to which our students, and specific groups of students see school as a protective factor and to respond accordingly.
The system has supported our colleagues in building up their own expertise in supporting these students and to provide the appropriate support in school and to engage with parents more closely in this process."
From a trust perspective, the support from STEER has been outstanding."
One Trust academy reduced self-harm by 20% since using STEER.
Trust DSL
Watch a 12 minute demonstration
If you would like to see what STEER can do now, then please watch our short demonstration video.
Watch now